High-ranking Mexican Golfer Luis Carrera Graduates from UCF
When he was just 4 years old, Luis Carrera's dad took him to a golf course near their home in Mexico City. The young Carrera was so enamored with the sport that his dad bought him a little golf club. Fast forward almost two decades and that little boy with a toy club has become not only a star on the UCF men's golf team, but one of the world's highest-ranking Mexican golfers.
Carrera is also the 1,500 graduate of the Bachelor of General Studies (BGS) program at UCF, which launched in Fall 2019. The major provides students, like Carrera, flexibility to design a degree program to suit their interests and academic and career goals.
Although Carrera praises his hometown for both its natural beauty and rich culture, he knew that he would need to come to the United States to pursue his golf dreams.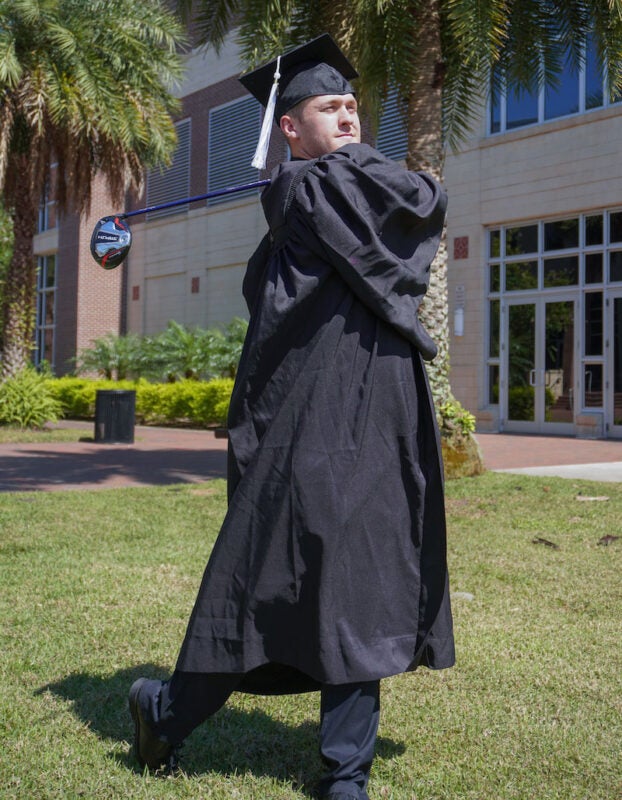 "I really wanted to play college golf, and to have the experience of living someplace new," Carrera says. "That was one of my goals, and fortunately I got a scholarship to come here and play golf."
Initially, "here" wasn't UCF. Carrera first attended, and played golf for, Sam Houston State University in Texas. It was a big step, but he embraced the change.
"I went from living with my parents to living alone. I didn't know anyone around me at the school so it was like starting from zero," says Carrera says. "The culture shock had a major effect on me, but I feel like I adapted very quickly."
After a few years at Sam Houston, Carrera decided that he would need to make another big transition if he wanted to reach his full potential.
"I spent three years there, but I really liked the coach from UCF, and I thought it would be better for me and for my constant improvement in my game if I transferred to UCF," explains Carrera.
In addition to better preparing him to pursue a career as a professional golfer, Carrera's time at UCF has left him well-equipped for life beyond the links. Rather than focusing on a specific field, integrative general studies majors earning the BGS degree draw on course work from different disciplines to attain expertise in multiple areas — like critical thinking, leadership and problem-solving — that are highly sought-after by employers.
"There's not a particular focus, and that's what makes this major really good because I can focus on many things," Carrera says. "It's not only one thing, it's a little bit of knowledge of many topics."
Carrera says he especially enjoyed math and business classes, and when it comes time to hang up his clubs, he said he sees himself going into business or investments.
"I really like the sports business side and the financial part of teams," Carrera says. "The fact that teams also have to function as companies, it's very interesting to think about that."
For now, though, Carrera is gearing up to compete in the UCF men's golf team's postseason and, from there, turn pro. While there's no direct path from playing college golf to joining the PGA or LIV tours, his victory last summer at the Canadian Amateur Championship earned Carrera the opportunity to play in a PGA Tour event this summer. After the playing golf, he plans to transition into the business side of sports. Carrera believes the playing sports in combination with the business classes he took at UCF will prepare for his next career step.
"That PGA Tour event is at the beginning of June, and that's going to be my debut as a professional," he adds. "I'm looking forward to it."
Carrera will also be keeping an eye on the progression of his younger sister, Victoria. Like Carrera, she also fell in love with golf at an early age and went on to earn a scholarship to play college golf in the U.S. Victoria is a sophomore at Erskine College in South Carolina.
As for others who might be following in his footsteps, Carrera has one piece of advice: Make the most of it.
"These years are going to be some of the best years of your life," he adds. "There are so many interesting classes and things to do at UCF. So just enjoy it."
As much as he encourages people to take advantage of the BGS major and all of the other things he's been able to enjoy while at UCF, Carrera happily acknowledges that there's one thing he's accomplished that no one will be able to replicate.
"Being the 1,500th student to graduate from UCF with a BGS degree, I feel like it's a nice coincidence," says Carrera. "I'm very excited and I keep telling people about being the 1,500th. I guess that's my lucky number now."