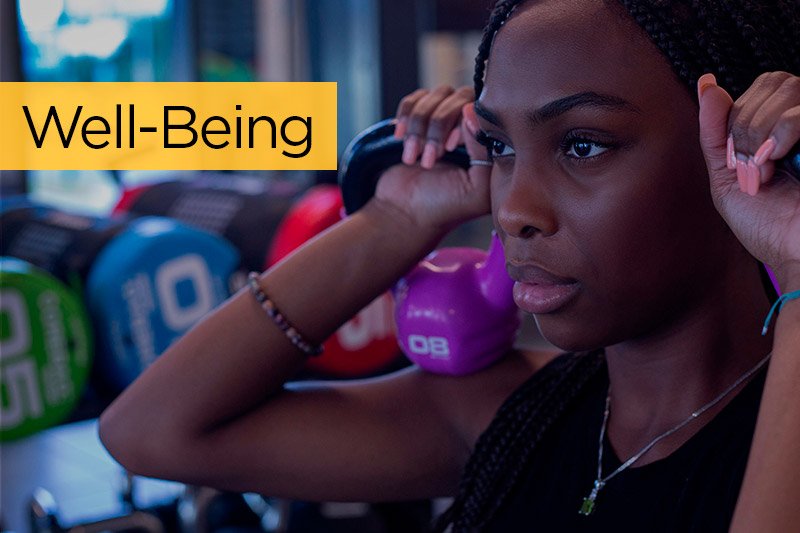 UCF Downtown offers a variety of health and wellness services and programs, including primary healthcare, mental health counseling, stress reduction, fitness, nutrition and sexual health.
All of these services are located on the second floor of UnionWest at Creative Village.
UCF Student Health Services provides a wide array of primary care services five days a week to meet your healthcare needs.
Diagnose, treat and write prescriptions for common illnesses such as strep throat, bladder infections, pink eye and infections of the ears, nose and throat
Common vaccinations for flu, HepB, MMR and Tdap
TB testing
Treat minor wounds, abrasions, joint sprains and skin conditions such as poison ivy, ringworm and acne
Provide a wide range of wellness services, including physical exams and smoking cessation
Lab tests such as Strep, Mono and urinalysis
Monitoring of diabetes, high cholesterol, high blood pressure, asthma and other chronic illnesses
Prescription refills
Location: UWCV 245
Student Health Services: 407-823-2701
Mental health services at UCF Downtown is provided by UCF Counseling and Psychological Services (CAPS).
Free, confidential mental health counseling
Initial assessment and treatment recommendations
Short-Term individual counseling
Crisis intervention and management
Presentations on mental health and wellness topics
Consultations to staff, faculty, students and parents
Referrals to community providers other resources
Location: UWCV 245
Counseling and Psychological Services: 407-823-2811
Afterhours Crisis Line (UCF): 407-823-2811, then press #5
BayCare (Valencia): 1-800-878-5470
Therapy Assistance Online (TAO) Self Help
TAO is a self-guided interactive, web-based program that provides assistance to help overcome anxiety, depression, and other concerns. TAO is based on well researched and highly effective strategies. The TAO experience encompasses viewing short, helpful videos, taking part in brief exercises, using logs to track your mood and progress, and having access to a Mindfulness Library of relaxation videos.
Find out more information about Therapy Assistance Online (TAO) Self Help.
The Recreation and Wellness Center is a comfortable workout space for students, faculty and staff with any fitness goals. The 7,900 square foot facility includes a multipurpose fitness studio, cardio equipment with the latest technology, strength machines, free weights and a state-of-the-art functional space.
Group Exercise Classes: Sign up for daily group exercise classes ranging from yoga to strength and resistance, and cardio-based dance to help you reach your fitness goals.
Fitness Assessments: Learn your baseline fitness level and test cardiovascular endurance, muscular endurance, muscular strength and body composition.
Personal Training: Schedule one-on-one sessions with a certified personal trainer to create an individualized fitness program just for you.
Outdoor Programs: Enjoy outdoor trips leaving from the downtown campus to state and regional locations as well as multiple outdoor fitness activities in and around downtown Orlando throughout the semester. Check the downtown calendar of events for upcoming trips.
Rec Center Hours of Operation
Mon – Fri, Noon – 6 PM; closed Saturday and Sunday
Location: UWCV 246
Recreation and Wellness Center: 407-235-3830
Wellness and Health Promotion
Stress Reduction
Biofeedback Relaxation Training: 6-session one-on-one training with a counselor that teaches you relaxation techniques to help reduce stress.
Meditation Classes: Learn how to "just be" during our weekly guided meditation.
Sexual Health
HIV Testing and Counseling: Get free and confidential test results in 15-minutes and learn different ways to keep yourself safe.
Condom Availability: Condoms are always free and will be available in multiple locations on-campus (to be announced soon).
Nutrition
FreshU Cooking Demonstrations and Classes: Learn how to incorporate fruits and veggies into your diet in a fun and delicious way while staying within your budget.
Location: UWCV 246
Wellness & Health Promotion Services: 407-235-3830
The Student of Concern Reporting Process allows members of the UCF Community (students, staff, faculty, etc.) to report concerns that they have about UCF students. If a student is experiencing challenges or difficulties that concern you, please report to Care Services. This process offers supportive intervention and guidance to any UCF student who is in distress or struggling before they reach a crisis level.
 
File a Student of Concern Report if you know of a distressed student and you:
Do not know where to refer them
Would like to consult about possible responses to a student's behavior
Notice a student's behavior is making others feel uncomfortable
Believe there may be safety concerns in the future
If you walk a student over or refer a student to the Counseling Center
Have called 911 because of a safety concern
Would like future follow up to ensure that the student is connected to
 Counseling and Psychological Services
If you need further assistance in determining if you need to file a report, contact downtownccs@ucf.edu.